GARAGE DOOR REPAIR
Deal of the Day: 10% OFF any Repair!
affordable prices
guaranteed!
same day
service!
24/7 emergency
service!
100% quality
guaranteed!
Champion Garage Door Repair Huntington Beach – a local mainstay
Through the years, here at Champion Garage Door Repair Huntington Beach, we have earned our reputation of commitment by providing quality and dependable garage door repair and services to our grateful Huntington Beach neighbors and customers. At Champion Garage Door Repair Huntington Beach, we offer complete garage door services, from maintenance to installations according to our customer's satisfaction and standards. While bringing affordable and reliable garage door repair services, we are continually holding quality industry standards and safety protocols in the highest esteem.
Comprehensive Garage Door Service
Champion Garage Door Repair Huntington Beach - locally owned and operated
We are a highly-trained team of experienced, professional garage door repair technicians. We specialize in garage door repair and services, take pride in our work and strive to achieve satisfaction not only with our customers, but with ourselves as well. We will arrive at your home, evaluate the situation, repair the damage, and be on our way! Our comprehensive garage door service takes many possibilities into account, and includes garage door spring repair, garage door opener repair, garage door cable repair, and the replacement of any garage door broken parts. Full details of the services we provide can be found on our website.
Prolong your garage door lifespan - garage door maintenance
As well as general garage door repairs and installations, we offer a maintenance service that allows you to ensure the ongoing good health (so to speak!) of your garage door in the Huntington Beach area. We will thoroughly inspect and process your garage door for any signs of failure, malfunction, or general wear and tear. Doing this annually will prevent sudden system failures and will provide you extra peace of mind that your cars and home are safe. A motorized garage door requires numerous complex moving parts and mechanisms to work in tandem. It is fairly easy for these components to become neglected and need some essential maintenance such as replacement or lubrication.
Trusted Garage Door Repair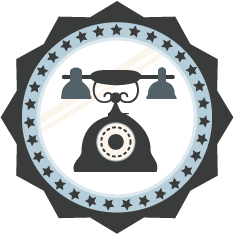 714-709-8075
Complete Garage Door Services in Huntington Beach
In addition to our garage door repair services, we offer garage door sales, installation, garage door spring repair, garage door opener repair and any other type of garage door service that your garage door may require! We are fully licensed and regulated, following all the necessary laws and rules put in place by the state of California and any relevant regulating bodies. Our services are fast, efficient, lasting, and very reasonably priced.
Garage Door Repair and service - No hidden fees!
We don't believe in dishonest quotes that "forget to mention" certain hidden fees and services that will be charged on top of regular quotes. We believe in full transparency with our quotes, giving you the price in FULL before the job has started. This ethos has led to our popularity for garage door repair services in the Huntington Beach area and beyond! Call us today! We will provide you the necessary information and services to keep your garage door working day after day, Champion Garage Door Repair is here for you.
Fast Garage Door Services
Average rating:
5 reviews
Dec 14, 2017
Excellent! Diagnosed the issues and gave me few solutions and his recommendation for the needed repair. The service was delivered in professional and timely manner! Definitely recommend them!
Dec 14, 2017
We couldn't get the garage door to open this morning. I called around and couldn't get anybody to come out. Called this company, they answered the phone right away and said that they would be there within one hour! The tech was there within 30 minutes!! 40 minutes later my garage door was open again and I made it to work in time. The tech was professional and did a thorough quality work! I would highly recommend Champion Garage Door Repair and I would definitely will use them for my garage door services again!
Aug 1, 2017
I called several garage door repair places in orange county, what I got was a rude bunch of people at all the companies I called, one even hung up on me! Finally I called these guys and they were professional, informative and knowledgeable. They came out and in about 30 minutes fixed a problem we have struggled with for months! We had great experience from start to finish and will refer family and friends as well as using them again if needed!
Feb 13, 2017
These guys are fantastic. Called Tim with an emergency (garage door stuck open) at night middle of the week. He showed up when he said he would and fixed it. Well done
Nov 20, 2016
We called this company after reading the online reviews. They came out same day and changed out our broken garage spring. They were friendly, worked quickly, and thoroughly and gave us information how to maintain the garage door correctly.